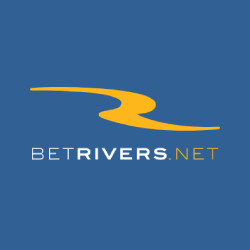 BetRivers Social Casino
$20 VC for free every four hours
Valid until December 31, 2023
Log in every 4 hours to get your free daily refill of $20.00 virtual credits (VC$) with your BetRivers.net account.
Summary
BetRivers Social Casino is a great place to play free casino games in a highly realistic online casino environment without spending a single penny. The BetRivers.net social casino is an entirely for-fun casino with absolutely no real money rewards or gambling systems, making it a great middle-ground between playing free slot demos and the real thing. With free credits being handed out every four hours and lots of other promotions, it's worth signing up just to have a play around!
Bonuses & Promos

×How good the casino's new player and returning player bonuses are

Games Variety

×How large and diverse the collection of games is at the casino

Customer Support

×How helpful, responsive, and easy to reach the customer support is

Mobile & Apps

×How responsive, feature-packed, and easy to use the mobile app is

Banking Options

×How broad the banking options are, including processing speed and limits
BetRivers Social Casino Review
BetRivers.net, sometimes known as BetRivers Social, BetRivers 4Fun, or BetRivers Casino4Fun, is a free-to-play online social casino that simulates a real online casino experience. The interface is very similar to the actual licensed and regulated gambling sites offered by BetRivers, but in an entirely free-to-play package that doesn't provide any real money rewards.
BetRivers Casino4Fun has positioned itself as a great place to practice playing casino games in a more structured environment than players would find if they stuck to playing slot demos. The currency system makes each spin feel like it carries some level of risk and reward, even though that risk isn't real money.
This page will go over the ins and outs of the BetRivers social casino. Even if you've played at other social casinos in the past, it's probably a good idea to give this page a read, as BetRivers operates things a little differently than most.
What is BetRivers Social Casino?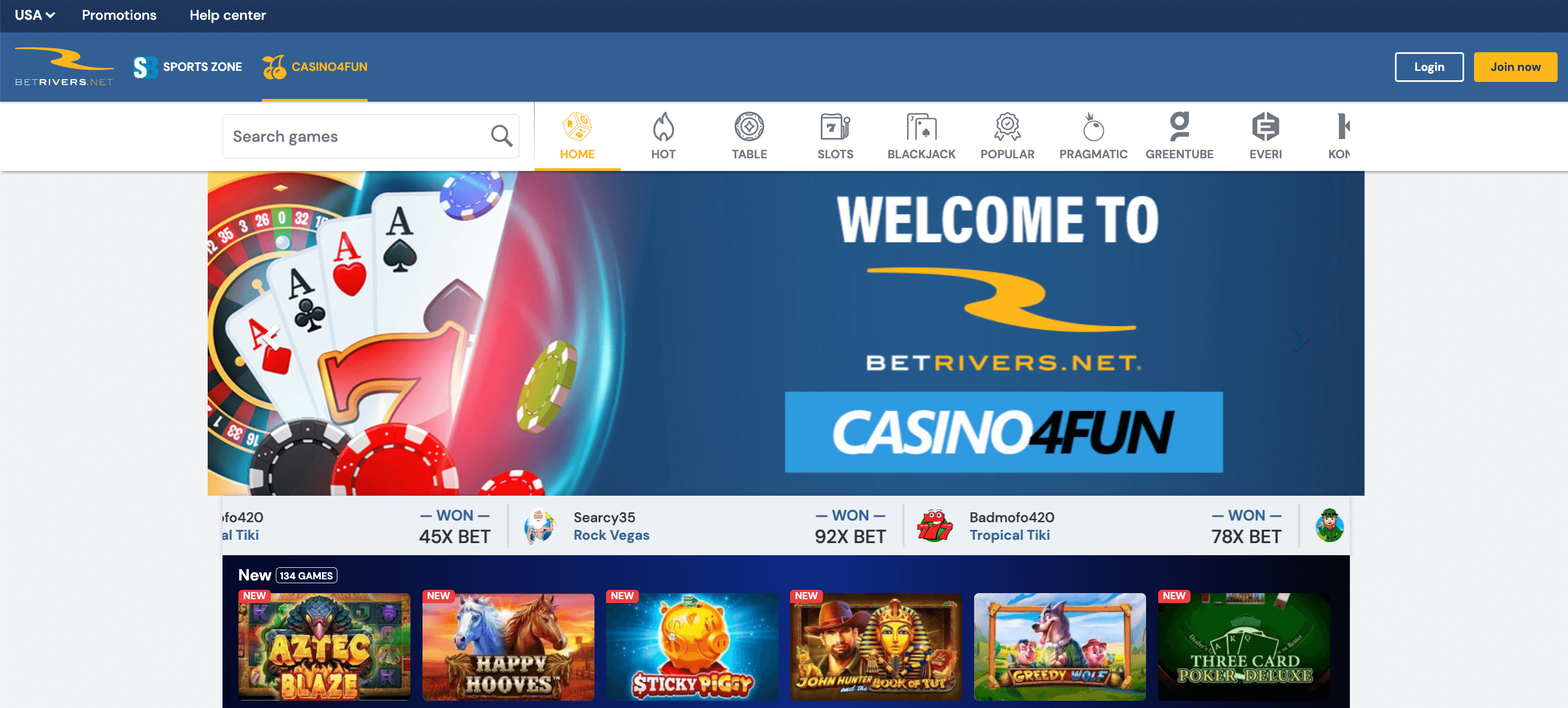 BetRivers.net is a social casino designed to simulate a real online casino experience in a way that doesn't actually support real money gambling. They achieve this by providing players free 'Virtual Credits' (VC) every four hours, with more opportunities to win VC during promotions. Of course, players who don't want to wait can also buy VC directly from the casino store.
The social aspect of the casino comes into effect when players fire up any game from the casino library and are welcomed by an optional chat room, in which they can discuss the game or have a casual chat with other real players.
As gambling bodies do not directly regulate social casinos, they have a much more flexible approach to how they run their site. BetRivers.net social casino has chosen to make their site just for fun, meaning real money prizes are entirely out of the question. In addition, players must be 21 to play at the casino, and BetRivers reserve the right to ask for proof of ID.
Background and Legality
As BetRivers.net casino is an entirely-for-fun experience, it doesn't need to be licensed or regulated by any official gambling body, as players are not actually gambling. However, it is worth noting that BetRivers also operates a legal online casino in the state of New Jersey. As far as the law is concerned, BetRivers Socials is simply a social game platform where players can pay for additional virtual currency to continue playing. This means the casino is available in all 50 US states.
The operator behind the platform is the legendary Rush Street Interactive, which also operates many licensed and regulated real money online casinos in various US states.
Pros and Cons of BetRivers.net
The BetRivers.net social casino is different from many popular social casinos. As the BetRivers brand operates regulated online casinos in multiple states, they're not using the social casino platform as an obfuscated way to host real gambling, so no real money prizes are available. With that, here are our three biggest pros and cons for the casino:
Pros

It's free
Many real casino games
Works in all 50 US states

Cons

No real money prizes
ID verification sometimes required
Minimum age of 21 in all states
Bonuses and Promotions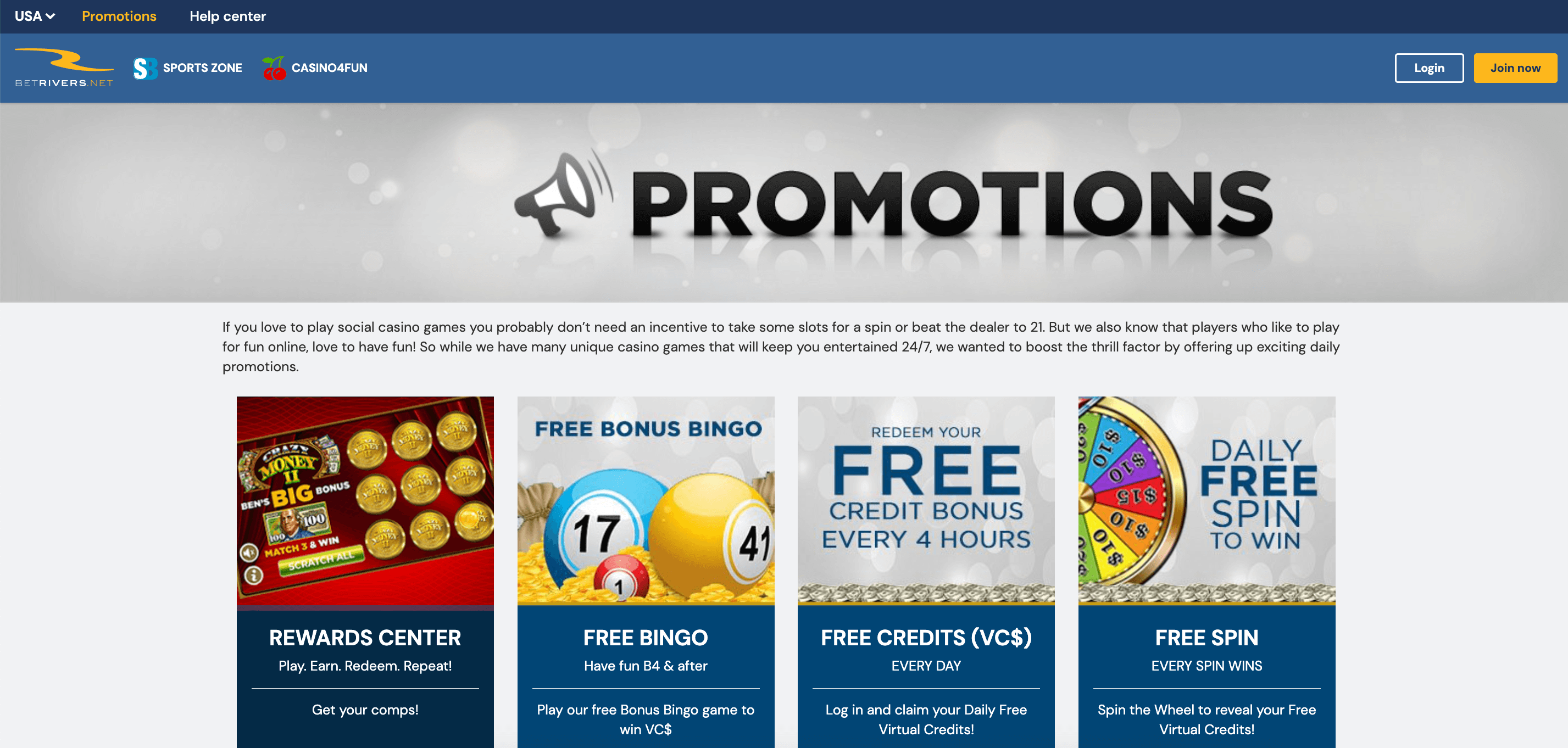 The BetRivers brand knows exactly what it means to have excellent bonuses and promotions for players. So to keep players coming back every day, the casino has a range of recurring promotions dishing out free VC that don't need a BetRivers bonus code. With these promotions, players should never really need to buy any additional credits from the store.
Ongoing Promotions
Here are some of the current ongoing promotions at the casino:
Free Credits: The casino provides players with $20 VC for free every four hours. These credits must be collected and will not accumulate.
The Daily Wheel: Every day, players are given the opportunity to spin the Daily Wheel for a guaranteed prize worth up to $1,000 VC.
Bonus Bingo: Free bingo games are available each night on the hour between 7-11 PM Eastern Time, with a top prize on each game of $50 VC. There is a catch, though. To receive an invitation to play bingo, you must ensure you are playing slots BEFORE the bingo begins!
Play Points
Each time you wager VC on a casino game, you will accumulate Play Points, which can be redeemed for virtual items, allowing you to win free VC, free spins on slots, or even more spins on the Daily Bonus Wheel. This fun little program simulates what a casino VIP loyalty program is like.
Game Selection and Variety at BetRivers Social Casino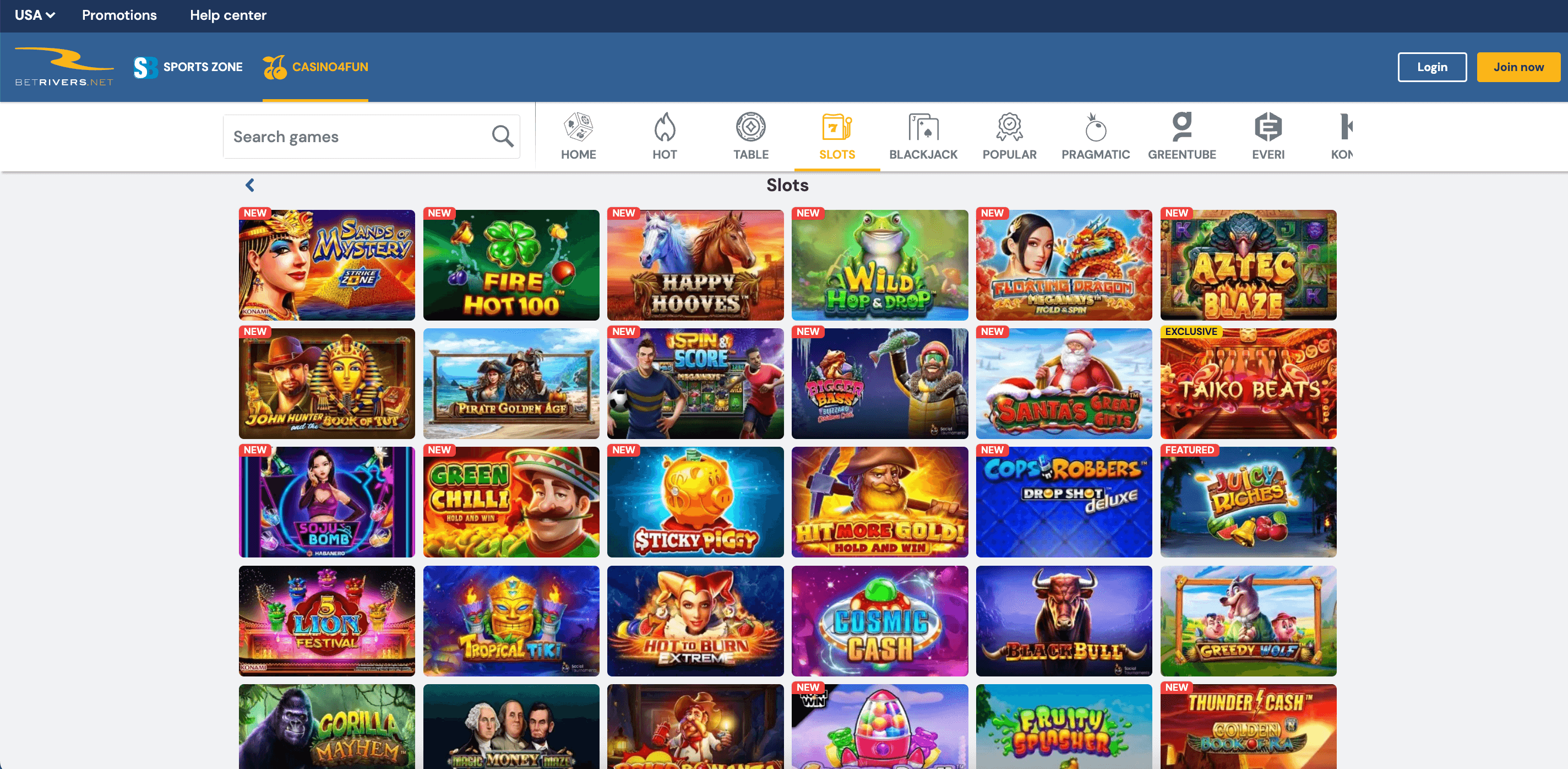 The game selection at BetRivers Social Casino is commendable. With over 650 titles, many of which are real casino games from top slot developers such as Pragmatic, NetEnt, and Konami, players will always have something to play. Games include slots, table games, video poker, bingo, and scratchcards. To make things even better, BetRivers is constantly adding new titles to the platform.
Slot Games
Slots make up the majority of titles available at the casino, with everything from classic 3-reel bandits to megaways slots with hundreds of ways to win.
Popular Slots
Madame Destiny Megaways
Thunder of Olympus
Vegas Nights
Cash Machine
Progressive Jackpots
Dynamite Dash
Wild Wild 7
Soaring Stallion
Exclusive Slots
Snakes and Ladders: Megadice
Royal Crane
Gold Express
Mighty Medusa
Table Games
The casino also has plenty of table games, and as each game has a dedicated chat room, you'll feel the excitement of the casino floor when cheering along with others! In addition, BetRivers.net has a great selection of real liver dealer titles!
Blackjack
First Person Blackjack
Blackjack Classic Touch
Blackjack Xchange
American Blackjack
Roulette
European Roulette
Roulette Touch
First Person Lightning Roulette
First Person Roulette
Video Poker
Three Card Poker Deluxe
Extreme Texas Hold'Em
Casino Hold'em Poker
Side Bet City
Live Dealer
Infinite Blackjack
Craps First Person
Lightning Roulette
Dreamcatcher
BetRivers Social Casino Banking and Payment Methods
Players who don't want to wait for a free top-up of VC can head to the online shop and buy more instantly. It's worth saying that this is regarded as a purchase of a virtual currency and not a deposit, as players can't withdraw money from the casino.
Payment Options
There are tons of promotions available at BetRivers socials to get free VC, and the maximum time you should have to wait to get more is four hours. However, if you do decide to buy VC, you have a few options available. They are:
Credit or debit card
BetRivers Prepaid cards
Mobile App and Compatibility
BetRivers doesn't offer a dedicated mobile app for its social casino product. This could be for a number of reasons, one of which is that it's expensive to ensure a great casino app experience, and the social casino doesn't make as much profit as their real casino sites. Additionally, BetRivers operates other real money casino apps, so they may not want to confuse customers looking for that product.
Mobile Browser Experience
Even though there is no dedicated mobile app, the casino works very well in a mobile browser, and players can add the page to their home screen to make it function just like a dedicated app would.
Most of the games at the casino are optimized for smaller screens and work in landscape and portrait mode, with large buttons for easy touch interaction.
Customer Support and Assistance
BetRivers Socials has an active email support address in which they cater to player queries and concerns. In addition to email support, the Help Center has a bunch of useful information and answers to frequently asked questions.
BetRivers Social Casino Review
BetRivers social casino is probably the closest thing a player can get to a real online casino experience that doesn't try to be something it's not. Unlike many other sweepstakes casinos, BetRivers 4Fun doesn't obfuscate the gambling bonus behind redeemable currencies that introduce real betting. Instead, it's an excellent casino simulation without any real money gambling aspects.
The casino is a great stepping stone to real money gambling, especially towards other BetRivers casino products, as the interface and layout of the site are almost exactly the same.
As this casino is a realistic simulation of gambling, players should always play responsibly and understand that success on BetRivers.net does not guarantee real money success.
While BetRivers Social Casino is an excellent alternative for those who want to enjoy gambling without the risk, it doesn't offer the same winning potential as real casinos. If you're looking for a thrilling gambling experience where you can try your luck and potentially hit a big jackpot, check the best NJ online casinos list. You'll find rankings and reviews of the state's most popular and reliable casinos there.
If you're looking for more sweepstakes platforms, Funrize is another option worth exploring.
FAQ
Is BetRivers.net fair and secure?
BetRivers.net is very fair and very secure. The platform is designed as a for-fun product, meaning users can't actually gamble real money. The whole purpose behind the social casino platform is to give players a taste of real gambling without spending a penny.
Is BetRivers Socials licensed and regulated in the US?
BetRivers Socials isn't a real money gambling site and thus is not directly licensed or regulated by any official gambling bodies within the US.
Does BetRivers Social offer anything in the way of Responsible Gambling?
The website has directions to the 1-800 Gambler number for problem gambling, and a contact form players can use to reach out to a customer support rep. That said, as the casino is not regulated and not a real money gambling site, they have little in the way of responsible gambling materials.
Does BetRivers Social offer any unique services or promotions?
Yes. Every game has a chat room, allowing players to stay social and chat about their experiences. To ensure players can always keep coming back for free, the casino gives players a $20.00 Virtual Credits bonus every four hours, as well as plenty of other promotions and seasonal events.