Reel Rush Slot by NetEnt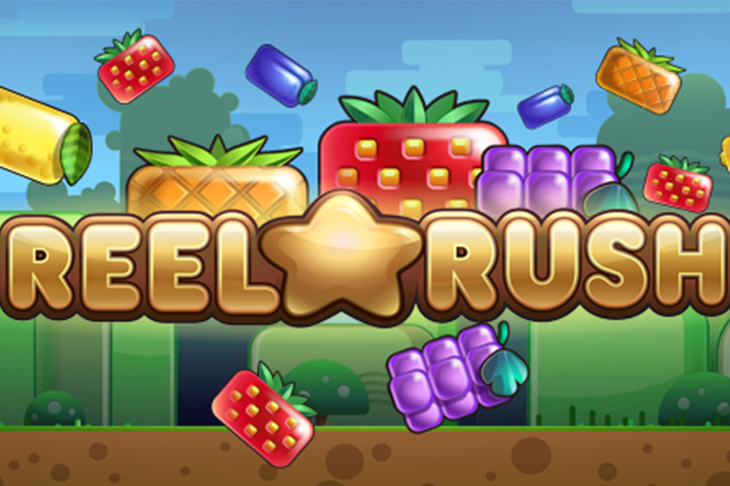 I confirm, that I am over 21
1 player already played
Summary
Re-live those candy-filled childhood days and satisfy that sweet tooth with Reel Rush by NetEnt! Offering an incredibly designed layout and deliciously unique flavor complete with unlocking reels on consecutive wins, Reel Rush is an excellent slot game marketed towards the traditional slot and modern slot enjoyers alike.
Play Reel Rush for Real Money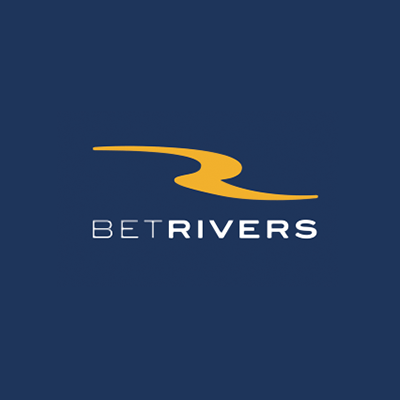 100% Deposit Match Up to $500
Full T&Cs Apply. To be eligible, players must be at least 21 years old, playing within the state of New Jersey. Players must make a single deposit of $10. The bonus money has a 10x wagering requirement.
Show me

5

more offers
Reel Rush Features
Name
Reels
Free Spins
Software
Paylines
Max Win
Stakes Range
RTP
Reel Rush
5
No
NetEnt
3125
1000
1 to 100
97%
Show me all Slot features
Reel Rush Slot Review
Reel Rush Slot provides a different feel for gamers looking for more variety in their online slots. The sleek modern feel is present with more traditional aspects from the most popular places. It offers a Kawaii Design, the developers at NetEnt attribute their thematic ideas to the cute, kitschy graphics popular in Japan. You will see this influence and style in Mobile games, with Reel Rush Slot incorporating designs from mobile games like Fruit Ninja!
How to Play Reel Rush Slot – Rules, Features and Payouts
An initial look will reveal what inspired the developers to create Reel Rush. With Candy Crush's massive popularity, it's incredible to see a similar aesthetic applied to an online slot machine. With the same type of exploding combinations racking up winnings fast, it's a uniquely designed slot that provides a ton of entertainment.
An In-Depth Look at Slot Settings
Whatever your preferences, Reel Rush Slot offers a very approachable way to set the slot up your way. First, decide what to set your wager at. Select a coin value between 0.01 and 0.25, and after, you can choose between a Bet Level between 1 and 10. A Bet Level of 1 with a coin value of 0.01 will place the minimum bet. The maximum bet can be achieved by placing the Bet Level at 10 and the Coin Value at 0.25. Autospin is available, with levels of 10, 25, 50, and 100 offered. Within the Autospin tab, you can find Advanced Settings which will allow you to set win and loss limits. There is an insane 3125 different pay lines with unlocking symbol slots that can be seen with streaks of wins.
Flavourful Fruits offer a Beautiful Color Palette
The primary symbols are a series of cutely colorful candy, both hard-boiled and sweet varieties. Matching symbols on three adjacent reels will give you a winning combination, with winnings paid from left to right. Purple Sweet, Green Sweet, Yellow Sweet, Orange Sweet, and Red Sweet all pay out winnings as follows, multiplied by the bet level: 3 in a row will payout times 3 (x3), 4 in a row will payout times 15 (x15), and finally, 5 in a row will payout times 50 (x50).
For the Blueberry, the Blackberry, the Watermelon, the Lemon, the Orange and the Strawberry, the payouts are as follows, multiplied by the bet level: 3 in a row will payout times 10 (x10), 4 in a row will payout times 75 (x75), and 5 in a row will payout times 200 (x200).
A Unique Take on Slot Features
Features are an essential part of any slot game, and Reel Rush is chock-full of them. Featuring an ever-present Wild Symbol, which appears on reels 2,3,4, and 5 (but not 1!), the symbol will act as a substitute. With no Scatter or Bonus Symbol, this Wild Symbol acts as an interchangeable symbol for these other bonuses. You may be thinking, "No Scatter, no Bonus?" but the developers can assure you that with the insane amount of times the Wild finds its way onto the reels, you won't even be thinking about it.
The difference with Reel Rush compared to others is the Hot Streak associated with the Free Spins mechanic. Winning a spin opens up more symbols to match others on the next spin. Winning twice opens up more, and again, even more, all the way up to 6! When you get those streaks going, they quickly add up your winnings and provide significant boosts as you're more likely to hit with more symbols.
Our Impression of Reel Rush Slot by NetEnt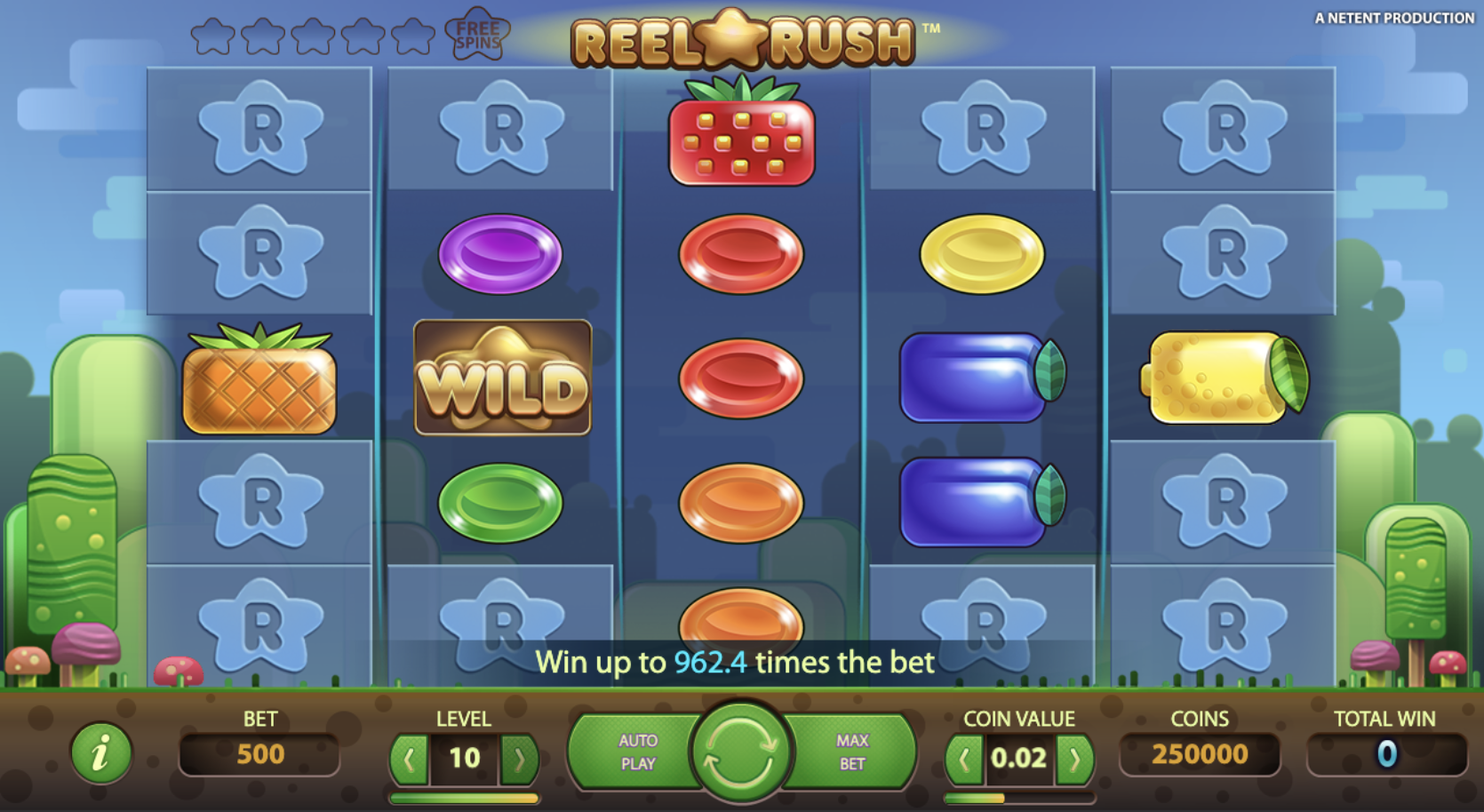 Playing through Reel Rush was quite the treat. I have always thoroughly enjoyed mobile-type games, and that same aesthetic was present in this game. The simplistic design and symbols aren't confusing to follow, but the bright pop of color is much needed and beautiful to watch. The ability to rack up wilds and unlock additional symbols and reels kept me locked in, and it wasn't long before I was able to achieve an excellent payout.
It also has a Mario-esque art design for those Nintendo fans out there, and at times the soundtrack and art design had the feeling of a retro arcade game, which was very fun. The Hot Streak Free Spin mechanic was terrific. It was so exciting to build up those combinations to reach a Free Spin eventually, and along with the Free Spin usually came a lot of winnings. It took me about 20 minutes to see the Free Spins happen, and my total winnings amounted to 24,000 in around 30 seconds! You can feel the high RTP value doing a lot for its players.
NJ Casinos to Play Reel Rush Slot for Real Money
Tropicana Casino

100% Deposit Match Up to $500

Full T&C applies. Must be 21 years of age or older. The welcome package for new users features $100 cash-back. Real cash, not bonus money. They feature a vast library of NetEnt games to enjoy.
Caesars Casino

100% up to $1,000 - On First Deposit

Full T&C applies. Must be 21 years of age or older. The welcome package for new users includes up to $500 back in bonus money for first-time deposits. A wide array of NetEnt games are available to play.
Colorful Candy Reel Rush Is Cute & Cozy
I thoroughly enjoyed playing Reel Rush and thought it was a very beautifully designed game. The lack of Bonus options never crossed my mind as unlocking extra reels and symbols kept it fresh and exciting. The Free Spins were a bit slow to appear, but when they did, it was incredible to feel like I earned the 5×5 reels that also brought a lot of winnings along with it. Reel Rush is a fun slot, but for even better odds, check out our article on high RTP slots.
For some, the cons of this might be the focus on a more kid-friendly aesthetic. The cute and quirky colors may provide a more entertaining layout for a more relaxing game, but doesn't provide the cutting edge story and art design that some other games offer.
Reel Rush Slot Casinos 2023
1

100% Deposit Match Up to $1,000

Full T&Cs Apply. To be eligible, players must be at least 21 years old, playing within the state of New Jersey. Players must make a single deposit of $10. The bonus money has a 30x wagering requirement.

300+

Slots Available

Read review

2

100% Deposit Match Up to $2,500 + $25 No Deposit Bonus

Full T&Cs Apply. To be eligible, players must be at least 21 years old, playing within the state of New Jersey. Players must make a single deposit of $10. The deposit match has a wagering requirement of 15x. The no deposit bonus has a wagering requirement of 1x

513+

Slots Available

Read review

3

50% Deposit Match Up to $1,000

Full T&Cs Apply. To be eligible, players must be at least 21 years old, playing within the state of New Jersey. Players must make a single deposit of $10. The bonus money has a 20x wagering requirement.

590+

Slots Available

Read review

4

100% Up to $1,000 - $25 FREEPLAY®

Full T&Cs Apply. New players only. To be eligible players must be 21 years or older and playing within the state of New Jersey. $10 minimum deposit required. Players must wager the bonus amount 15x on all games.

1134+

Slots Available

Read review

5

100% Up to $1,000 - $20 FREE On Sign Up

Full T&Cs Apply. New players only. To be eligible players must be 21 years or older and playing within the state of New Jersey. $10 minimum deposit required. Players must wager the bonus amount 15x on all games.

855+

Slots Available

Read review