Caesars Sportsbook Fined by Gaming Authorities in New Jersey for Withholding a Hockey Payment
978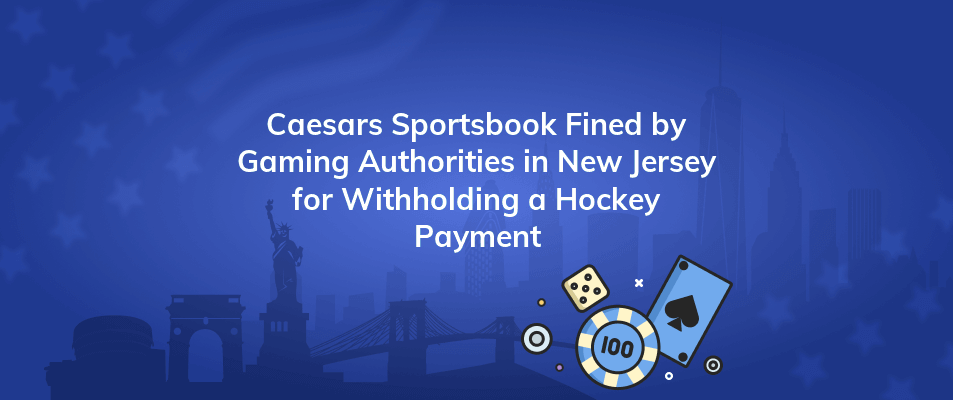 The gaming authorities in New Jersey have penalized Caesars Sportsbook for improperly withholding nearly $27,000 from a customer who placed winning wagers on a game of international hockey last year. Caesars also operates an online casino in the Garden State.
The question was whether or not goals scored in overtime should be taken into account when assessing whether or not bettors were winners or losers. Similar pitfalls may likely befall numerous soccer gamblers during the World Cup, as wagers are often evaluated depending on what transpires during normal times.
Caesars has been given a $500 fine by the state's Division of Gambling Enforcement for incorrectly maintaining that the man's hockey bets were lost. A message requesting a response on November 29 was not immediately answered by Caesars Sportsbook. On Nov. 10, the division handed down a decision in the case. On November 17, the Associated Press asked for further information on the decision; however, the division did not provide that information until November 28.
The wagers were put during a game between Vityaz Podolsk and Dinamo Riga on December 22, 2021, in the Kontinental Hockey League, which is headquartered in Europe and Asia. The patron's name was concealed from the public records.
The gambler wagered that the game would include more than 4.5 goals. Including overtime, there were five goals scored throughout the contest.
When the gambler contacted Caesars, they informed him that the bets were lost since they did not count goals scored in overtime. The gambler argued that Caesars' terms of service indicated otherwise and refuted the claim.
The enforcement division concurred and took the gambler's side, fining Caesars $500 and directing it to pay the bets for the win.