The NJ Senate Will Vote on a Bill Outlawing Smoking at AC Casinos
142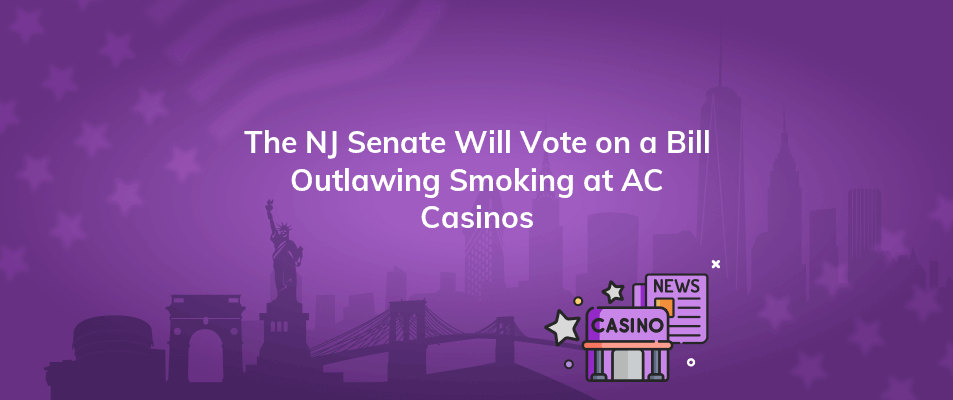 A plan to outlaw smoking at Atlantic City casinos will be put to a vote by the NJ Senate during a session of the legislature.
According to POLITICO, Senate President Nick Scutari, a Democrat from Union, is prepared to bring S264 up for a full floor vote after November's general election. With 26 state senators out of a potential 40 supporting the measure, it is expected to pass the Upper Chamber with ease.
Before the legislation is brought to Murphy's desk, a companion measure has to be voted on and approved by the General Assembly. Assembly Speaker Craig Coughlin, a Democrat from Middlesex, has not made it known to the public whether the Lower Chamber would take action. Of the 80 Assembly members, fifty-seven are either co-sponsors or sponsors of a related measure that would outlaw smoking at casinos in AC.
The three state legislators from Atlantic City who represent the resort in the state capital are in support of making smoking outside of the nine gaming establishments on the property illegal. There are some people who are against it, like Jim Allen, chairman of Hard Rock International.
The resolution in favor of banning smoking at casinos was approved by the AC City Council. Closing the casino smoking loophole is something that the United Auto Workers (UAW) union, which represents around 1,200 casino dealers in Atlantic City, is in favor of.
Assemblyman Don Guardian, D-Atlantic, a former Atlantic City mayor, summed up his stance earlier this year by stating that he doesn't want to take away someone's ability to commit suicide by smoking. He wants to make it illegal for them to smoke in a casino and murder someone else.
Nonetheless, a number of notable organizations are against the smoking ban in S264, including:
Chamber of Commerce of Southern New Jersey
Atlantic City Mayor Marty Small Sr.
Casino Association of New Jersey
New Jersey Association of Area Agencies on Aging
Greater Atlantic City Chamber of Commerce
UNITE HERE Local 54