Atlantic City Casinos Are Planning to Vaccinate All Employees by Memorial Day
1K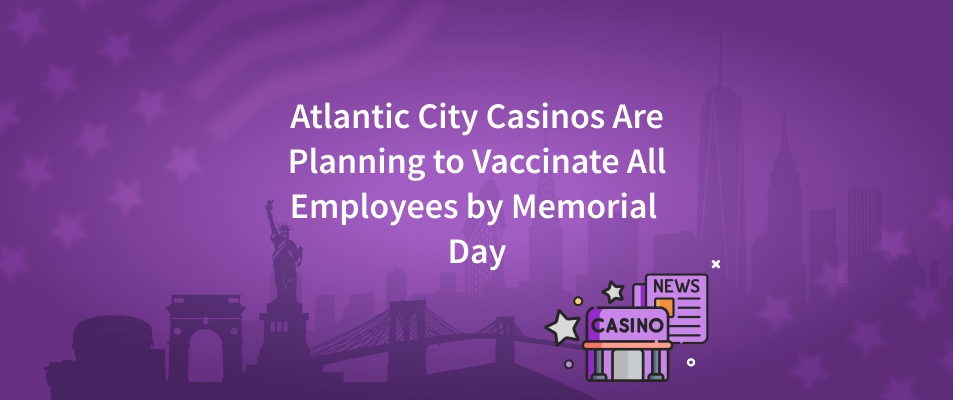 In Atlantic County, casino workers from the Convention Center have begun receiving COVID-19 vaccinations, according to AtlantiCare. Phil Murphy, the Governor of New Jersey, has extended the eligibility period for hospitality workers across the state.
"AtlantiCare, the Casino Association of New Jersey, and Unite Here Local 54 are collaborating to vaccinate close to 25,000 casino employees by Memorial Day," the spokesperson for AtlantiCare Jennifer Tornetta stated.
"Getting our local hotels and casinos vaccinated by Memorial Day is a priority for AtlantiCare, Unite Here Local 54, and the Casino Association of New Jersey," an AtlantiCare representative said in a statement.
"Getting our workers vaccinated is a critical component of protecting our community and keeping our visitors safe and healthy," said Lori Herndon, president, and CEO of AtlantiCare.
"AtlantiCare and the state are teaming up with Local 54, the largest union representing casino workers in New Jersey, to vaccinate casino workers daily", Tornetta said.
"Through this collaboration, Mario Guzman became the first employee to be vaccinated. He serves food at Borgata," Tornetta said. "He is a valuable employee, with more than two decades of experience in the casino business."
"I've been unemployed since March of 2020 when the pandemic hit," said Guzman. "I'm looking forward to starting work at Borgata again in June. I'm so glad I can keep the customers safe and go back to work."
"
McDevitt, the president of Local 54, said Monday was an excellent day for hospitality and gaming workers.
"To make the registration process simple, every employee will get a unique password," Tornetta said that employees would also be required to show proof of casino or Local 54 affiliation to enter the vaccination site. Employees will get their vaccinations at the Convention Center. According to Tornetta, AtlantiCare has delivered more than 4,000 vaccine doses per day since the site went live on Jan. 22.
Steve Callender, president of the Casino Association of New Jersey, said, "Our top priority is the safety and health of our employees, guests, and fellow residents." We are grateful to be able to protect our employees against this deadly virus with the COVID-19 vaccine."