Dining Is Now Available at Caesars Atlantic City's Hell's Kitchen
1.2K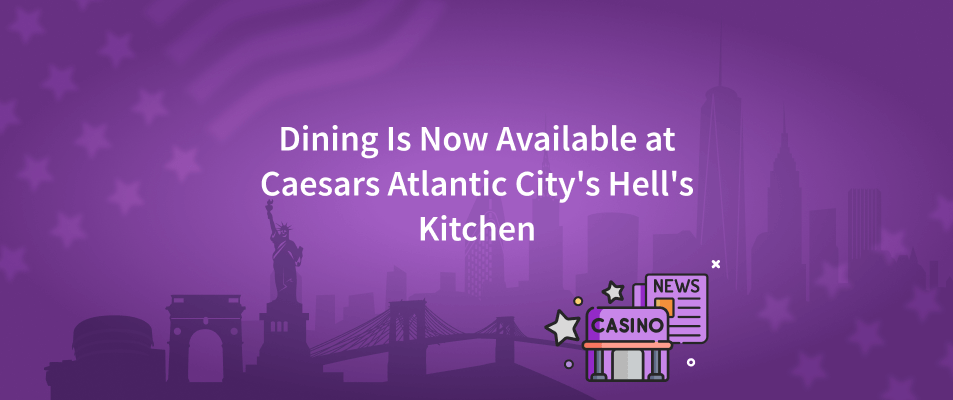 Hell's Kitchen at Caesars Atlantic City is already open. Caesars Entertainment released a press statement on the 21st of September afternoon to officially announce the news. Caesars Atlantic City is also known as the land-based partner of some of the best online casinos in New Jersey, including their own Caesars Casino NJ, as well as 888 Casino NJ and WynnBET Casino NJ.
However, Gordon Ramsay was not spotted at the casino in Atlantic City, not yet, at least. Hell's Kitchen is making its East Coast premiere with this. The entrance to the restaurant is a short distance from the slot machines on the second floor.
Details about Hell's Kitchen Atlantic City
The restaurant has 233 seats available over its three floors. The design includes mosaic tiling and lighting across the tall ceilings and blends brass rods and pitchfork features.
This means that every table will be able to witness the beauty of this design, one that many people will be pretty familiar with, as it resembles many elements that we've already seen in the Fox series.
Giving Caesars Atlantic City a New Lease on Life
This is not the only new restaurant to debut this year, as those who have been following the news about Atlantic City casinos over the past several months are well aware. And it won't be the last, for sure. Gordon Ramsey expressed his excitement over the launch of Hell's Kitchen in Atlantic City.
He said that, as a result of Caesars' tireless efforts and great community support, the spirit of the Hell's Kitchen dining room would be the ideal complement for the legendary city that is Atlantic City.
Consider it an expansion of the alliance Ramsay has with Caesars AC. While you are in AC, you can also find the Gordon Ramsay Pub & Grill at Caesars and the Gordon Ramsay Steak at Harrah's Resort.