NJ iGaming Revenue Hits Record $1B in 2021
2.1K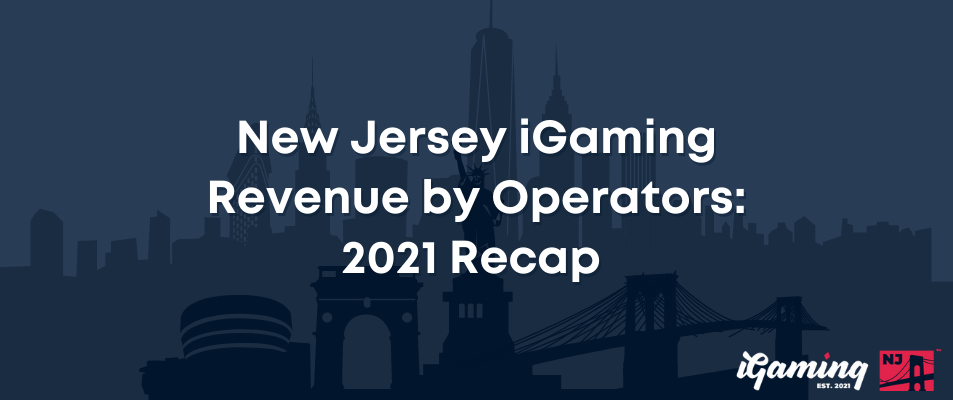 The New Jersey iGaming revenue continues to soar in New Jersey as more players turn to online gaming thanks to its accessibility and excellent returns.
This article will explore the revenues of seven major players in New Jersey's online gambling industry. We will also conduct a year-to-year comparison of the revenues of every major New Jersey online casino to see the bigger picture of the market as a whole and how advancements in the industry are driving positive numbers.
Comparing Seven Major Casino Brands
The following seven brands encompass almost all of the iGaming operations available in the state of New Jersey, as brands such as Borgata also operate online casinos such as BetMGM and Party.
Borgata
The Borgata casino took their 2020 revenue of $198.4m to new heights with a huge increase of 102.7% in 2021, for a total of $402.2m.
That crowns the Borgata brand, which consists of Borgata, Party, and BetMGM, as the current iGaming revenue leader in New Jersey.
Golden Nugget
The Golden Nugget casino is the only brand in this comparison that will see lower returns in 2021, with $6.5m less than their 2020 takings, for an overall decline of 2.05%.
That $312m is still an overall increase of $141.8m since 2019, putting them in a comfortable position as the second biggest iGaming brand in the Garden State.
Resorts Casino
Resorts Casino is next on the list, with superb casino takings just short of $283m for 2021, an increase of over $87m from 2020.
This is becoming an exciting trend for the Resorts brand, which also operates DraftKings and PokerStars, as they also saw an increase of over 100% from 2019 to 2020.
That means the Resorts brand has gone from revenues of $72.6m in 2019 to an eye-watering $282.9m in 2021.
Caesars
Working our way down from the top revenue earners of 2021, we find the Caesars casino, which also operates Harrah's and 888, took in casino revenues of just over $92m in 2021, up from $78m in 2020 and $46m in 2019.
That's pretty steady growth, and given Caesars is a well-known casino brand across the entire US, we don't expect that growth to slow down any time soon.
Tropicana
Tropicana casino, which also operates Virgin, is a brand that has produced similar numbers as Caesars since 2019.
With an increase of just over $17m or 24.6% from 2020 to 2021 and an overall increase from $44m in 2019 to $87.3m in 2021, Tropicana is also making steady gains year-on-year.
Hard Rock
The Hard Rock casino, consisting of Hard Rock, Unibet, and Bet365, had another revenue-increasing year, with the brand taking $67.3m in 2021, beating their 2020 total of $59.6m.
However, that increase didn't manage to live up to the astounding increase from 2019 to 2020, which saw the brand see a revenue increase of 164.6%, taking it from $22.5m to $59.6m!
Ocean Casino
Lastly, the Ocean Casino brand, which operates with Parx, has also had a revenue-increasing year, from $10.3m in 2020 to $12.7m in 2021.
Like Tropicana, the Ocean brand couldn't sustain the same growth as they did in the previous year, as they also grew over 100% from $5.1m in 2019.
Still, in a year that has been challenging for land-based casinos, a year-on-year growth of 20% isn't anything to complain about.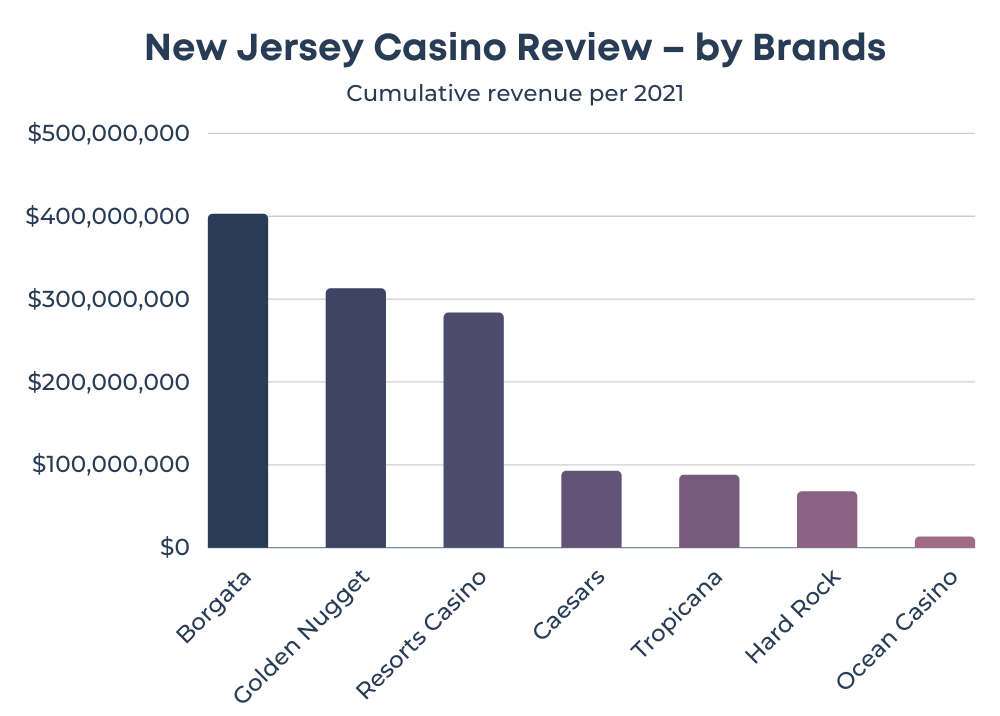 What Can We Expect in the Future?
Given the strong performance and year-on-year growth for the iGaming sector, we expect a continuous increase in future years as the relatively new industry reaches maturity.
We also can thank technological advancements such as the plethora of new ways to play and mobile devices catching up with desktop levels of performance to allow users to play from anywhere within the state. The ever expanding market welcomes new NJ online casinos every month, so make sure to stay tuned to learn first hand about market's most recent additions.
There is also the fact that online casinos aren't at risk of being forced to close their doors at a moment's notice.