Online Casinos in NJ Set Record $1.66 Billion for 2022, $151.5 Million in December
623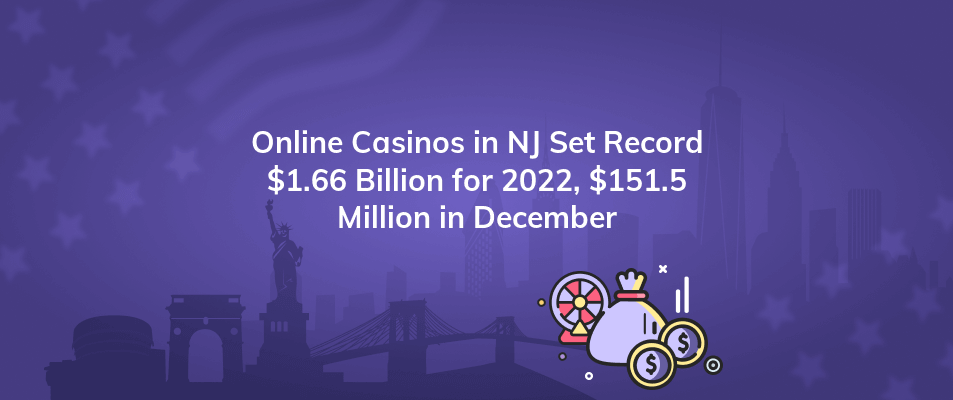 The month of December saw $151.5 million in revenue from NJ online casinos. In comparison to the same time in 2021, this is an increase of 13.7% over $133.2 million. This figure also surpasses the previous monthly record, which stood at $147.2 million two months earlier.
When the figures for December are added to the 12-month totals, the revenue for 2022 for online casinos in NJ and their land-based partners amounts to $1.66 billion. In comparison to the $1.37 billion generated the year before, this is a 21.6% increase.
The Garden State has earned more than $5.5 billion since the launch of online gaming in November 2013.
With $43.7 million, up 18% from the same month last year ($37 million) and led by Borgata and BetMGM online casinos, Borgata Hotel Casino & Spa set the pace. However, November was the busiest month for Borgata, with a revenue of $44.3 million.
Borgata, which is operated by MGM, continues to be the biggest player in the market. Nearly half a billion dollars ($496.3 million) was made by the Marina District property and its online partners throughout the year. This includes eight consecutive months with a revenue of at least $40.5 million.
Resorts Digital, which is comprised of Barstool, Resorts, and DraftKings, announced revenue of $40.4 million, an all-time record month, and an increase of 22.7% over the same period in 2017 ($32.9 million). The total revenue for the year is $393.3 million.
Golden Nugget Atlantic City reported $37.8 million for December (up 4.9% from December 2021), its licensees being FanDuel, BetRivers, and Golden Nugget online casinos. Golden Nugget came in second place in terms of 2022 New Jersey revenue from gambling with $431,7 million.