Casinos in Atlantic City Earned $290 Million in July, a 3% Decrease from July 2022
146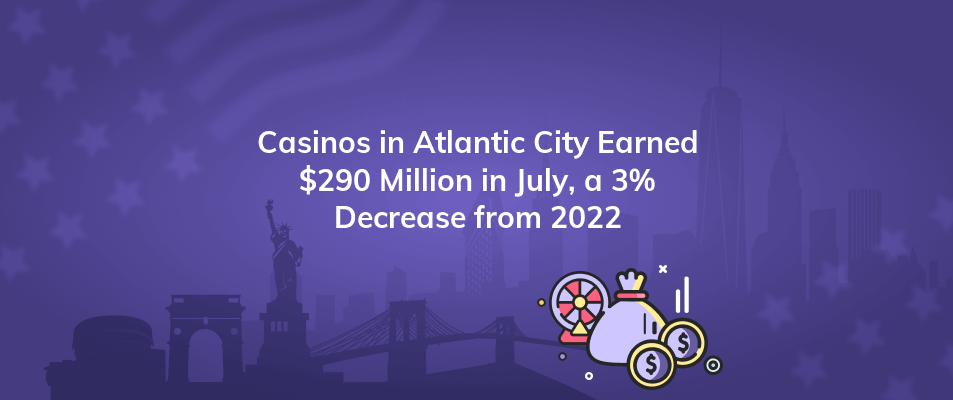 Only three locations in AC generated a profit in July, which resulted in a 3% drop in table and slot machine income when compared to the same month in 2022.
Last month, AC's land-based casinos made little under $290 million, down from $299 million in July 2022. Nine casinos in the city produced approximately 4.5% more revenue when compared to July 2019, which is optimistic for the still-recovering brick-and-mortar market.
The monthly gambling revenue statistics from AC were a source of pride for the business, according to James Plousis, chairman of the state Casino Control Commission. Plousis said that the casino floor's slot machine win has increased to its highest level since August 2013, indicating that summertime traffic had been robust. Casino win was the second-highest recorded total for July in 10 years, despite the fact that players made more money at the tables than they did in July of 2022.
Analyzing the Top AC Casinos' Revenue for July 2023
While Hard Rock Hotel & Casino Atlantic City experienced an increase of only 0.3%, Bally's Atlantic City and Borgata Atlantic City both witnessed an increase of slightly more than 2%.
The market leader in Atlantic City is still Borgata. With a 2.4% increase from July 2022, the Marina District casino saw revenue of $78.5 million from live players. With $435 million in revenue from live players so far this year, Borgata is 5.6% ahead of where it was at this time in 2022.
This summer, Hard Rock and Ocean Casino Resort both marked their five-year anniversaries. In that time, both have firmly established their places in the elite of the gambling industry of AC.