Rain Can't Faze the Supporters of the Casino Smoking Ban in Atlantic City
1.3K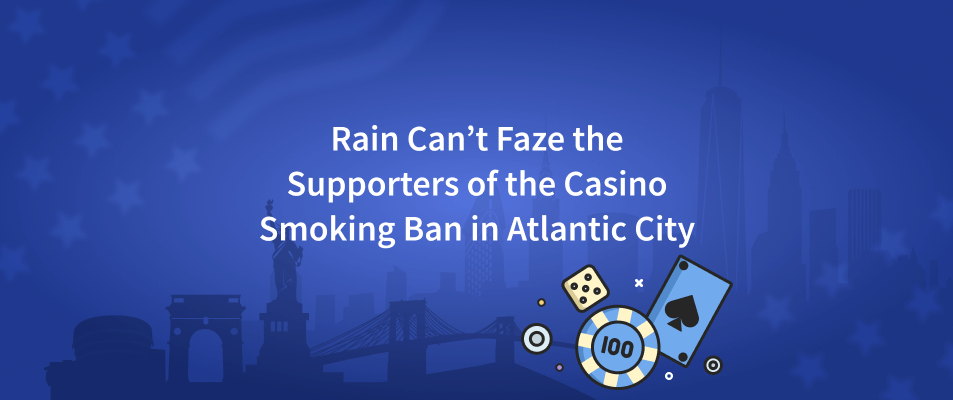 More than 100 employees of the city's nine casinos were staging a protest march on the renowned Boardwalk right outside the Hard Rock Hotel and Casino on Thursday, September 22, as Gov. Phil Murphy gave a 20-minute keynote speech at the luncheon for the East Coast Gaming Congress.
The staff has been meeting for several months to raise awareness of their desire to include casinos in the state's nearly complete prohibition on smoking in indoor facilities.
The new president of the Casino Association of New Jersey, Mark Giannantonio, the CEO of Resorts, who had previously been slated to speak on a panel on the benefits and drawbacks of smoking bans, was a particular target of the employees' ire. The panel was removed from the two-day schedule of debates because no one else stepped forward to support keeping smoking allowed on the premises.
Casino Employees Against Smoking's Effects (CEASE) leaders Pete Naccarelli and Lamont White, both dealers at the Borgata table games, pushed the crowd to speak up in support of their cause.
According to Naccarelli, he has a wife, and two sons, and wants to be there for them in the long run. He says that the likelihood that he will be there goes down with each day that smoking is permitted.
The CANJ, he continued, is currently hiding and fleeing; they lack any rational justifications and are unable to have a discussion on this matter. They rely on lobbyists to smear fallacious arguments into people's ears. Naccarelli said that he hopes that elected representatives won't be misguided by baseless arguments.
CAESE's Mark Giannantonio had previously been preparing to speak on a panel at the ECGC, but the conference was ultimately canceled due to Giannantonio's withdrawal from the event.