The $338M Acquisition of Barstool by PENN Entertainment is Complete
598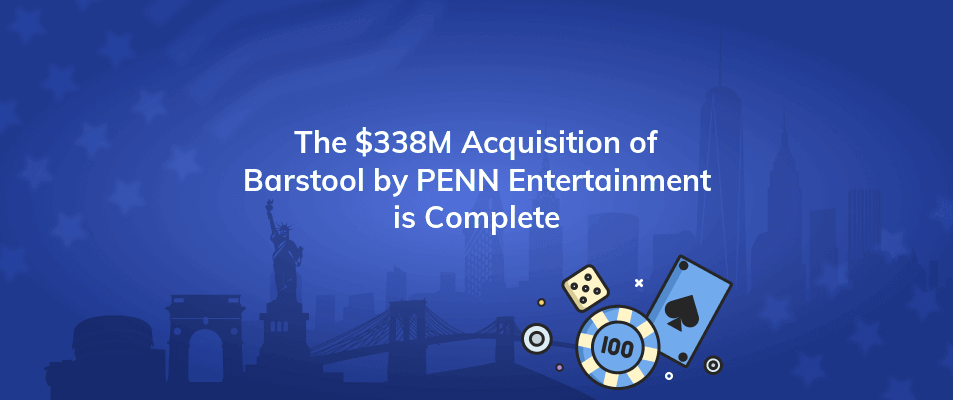 As PENN Entertainment closed its acquisition of Barstool Sports on February 17, Dave Portnoy is officially a member of the PENN Entertainment team.
The news was reported through a press release on February 17. Barstool's remaining assets, which included its media productions, live events, sportsbooks, and online casinos, were purchased by PENN for $388 million. Three years prior, in 2020, PENN purchased 36% of the business.
The parties included a plan for PENN to fully take over Barstool Sports during the initial deal. To increase its impact in sports and iGaming, PENN also paid $2 billion to purchase Canadian giant Score Media in 2021.
According to Jay Snowden, CEO and President of PENN Entertainment, the company is overjoyed to welcome Barstool Sports completely into the PENN Entertainment family. Barstool is a major media brand with a genuine voice and a sizable, devoted following that offers PENN a strong opportunity for new customer acquisition and organic cross-selling potential throughout the expanding interactive division of the company. The combined influence and user base of theScore and Barstool establish a vast digital presence and environment that will help Barstool Sportsbook and PENN's distinctively integrated media and gambling company grow.
About PENN Entertainment
PENN National Gaming is a leading provider of gaming and entertainment services in North America, with a portfolio of 41 properties in 19 states. The company offers a wide range of gaming options, including casino gaming, sports betting, and online gambling. In addition to its gaming operations, PENN National Gaming also owns and operates a number of hotels and restaurants.
About Barstool Sports
Barstool Sports is a sports media brand that was founded in 2003 by Dave Portnoy. The brand has become a popular destination for sports fans, with a strong online presence and a large social media following. Barstool Sports offers a wide range of content, including sports news, commentary, and podcasts. In addition, the brand has expanded into other areas, such as sports betting, Barstool online casino, and e-commerce.